Regular price
Sale price
$20.00 USD
Unit price
per
Sale
Sold out
Experience the ultimate in pampering and self-care with our Silk Glow Turkish Bath Exfoliator Gloves. These luxurious gloves are your gateway to a rejuvenating spa-like experience right in the comfort of your own home. Crafted with precision and made from the finest materials, our Silk Glow gloves bring you the authentic secrets of the Turkish Hammam, delivering unparalleled exfoliation and silky-smooth skin.

Key Features:

1. Indulgent Spa Experience: Transform your bath or shower routine into a lavish spa experience. Our Silk Glow Turkish Bath Exfoliator Gloves are designed to recreate the traditional Turkish Hammam ritual, which has been cherished for centuries for its skin-renewing benefits.

2. Premium Silk Fabric: Crafted from the highest quality Silk Fabric, these gloves provide a soft, gentle touch on your skin while effectively removing dead skin cells, impurities, and excess oils. The Silk Glow experience leaves your skin feeling supple, radiant, and pampered.

3. Gentle Exfoliation: The fine texture of the gloves ensures a gentle yet thorough exfoliation process. Say goodbye to rough, dull skin as our gloves reveal a fresh and rejuvenated complexion.

4. Versatility: Suitable for all skin types, our Silk Glow gloves can be used on your entire body, including arms, legs, and even your face (with care). Embrace the versatility of these gloves as they cater to your unique skincare needs.

5. Easy to Use: Slip on the gloves and let the magic begin. The ergonomic design allows for easy handling and a comfortable fit. Simply massage your skin in circular motions during your bath or shower, and witness the transformation as dead skin is gently swept away.

6. A Thoughtful Gift: Treat yourself or surprise a loved one with the gift of Silk Glow Turkish Bath Exfoliator Gloves. Perfect for special occasions or as a token of appreciation for someone who deserves a little extra pampering.

Elevate Your Skincare Routine:

Say hello to smooth, glowing skin and bid farewell to the stress and fatigue of daily life. Our Silk Glow Turkish Bath Exfoliator Gloves are the perfect addition to your skincare routine, allowing you to indulge in self-care whenever you desire. Embrace the secrets of the Turkish Hammam and unlock the potential of your skin's natural radiance.

Experience the Silk Glow Difference:
Created with love and care, our Silk Glow Turkish Bath Exfoliator Gloves embody the essence of luxury and efficacy. Step into the world of indulgence and rejuvenation with each use, and let the Silk Glow experience become an integral part of your beauty ritual.

Order Your Silk Glow Turkish Bath Exfoliator Gloves Today:

Elevate your self-care journey and give your skin the attention it deserves. Embrace the Silk Glow difference and rediscover the joy of having silky-smooth, glowing skin. Don't miss the opportunity to experience the magic of the Turkish Hammam right at your fingertips. Order your Silk Glow Turkish Bath Exfoliator Gloves today and embark on a journey of relaxation, renewal, and radiance.
Shipping & Returns

Shipping

Fast global delivery is available for all orders. Shipping fee is calculated at the checkout.

Orders may take up to 3 days to process and a total of 15 days to reach to your delivery address as soon as they're shipped.

The buyer is responsible of any cross-border fees, taxes and customs.

Returns

All items are returnable within 30 days of purchase. In case of return, please include a copy of your order invoice with the package. Return shipping fees are to be paid by the buyer.

Before returning an item please contact us first and proceed as advised.
Share
View full details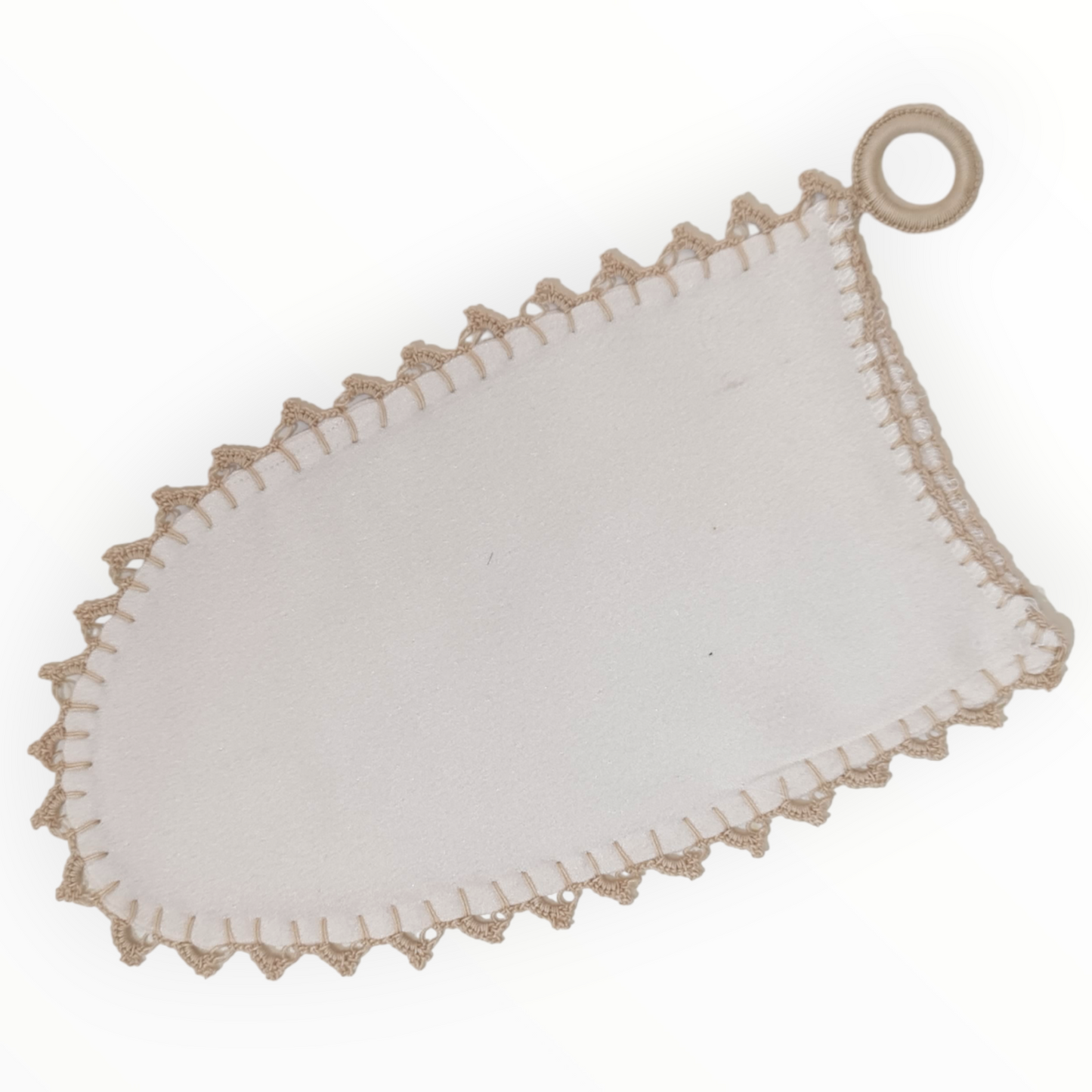 SOME OF THE HIGHLIGHTS
Special silk products compiled from various regions of Anatolia, authentically woven items, kaftans, pashminas, rare cloths, mohair, wool, bath accessories, bathrobes, and towels.
Shop Our Collectıon